After I bought my York Master off of eBay a couple months ago I had a chance to talk to the previous owner by phone. His name is C. Jerrett Miller and he said he played the tuba in the Cities Service Band of America under Paul Lavalle in 1957. From my internet searches I found that the band had a long celebrated run. They had a live radio broadcast from Radio City Music Hall through 1956. After which they toured and performed. My guess is that the band's roster changed somewhat when they started to tour.
Anyway... I found several of their old albums for sale on eBay and other places and I bought some so I could take a listen to see how good they were. Since I was only a toddler back then I have no memory of them. I picked up albums titled
"Great Band Music"
,
"Concert in the Park"
,
"Lavalle At Work"
and
"Jubilee Marches"
. All where recorded in 1955 and 1956 when they still had the top players. WOW! What a band! And the low brass section sounded incredible.
I found a copy of the band roster on the net and I was stuned to see who was playing tuba. Paul Lavalle carried 4 tuba players, and they were not exactly unknowns! See the roster below for the tuba section. You should hear the recording of Lavalle's march
"Big Joe the Tuba"
...

The
"Great Band Music"
album has great recordings of
"La Gazza Ladra"
by Rossini, Vaughan Williams'
"Folk Song Suite"
,
"March and Procession of Bacchus"
by Leo Delibes,
"The Universal Judgment"
by Camille De Nardis, Prokofieff's
"Summer Day Suite"
along with some lighter faire. The quality of the recordings is outstanding. Along with some great tuba playing.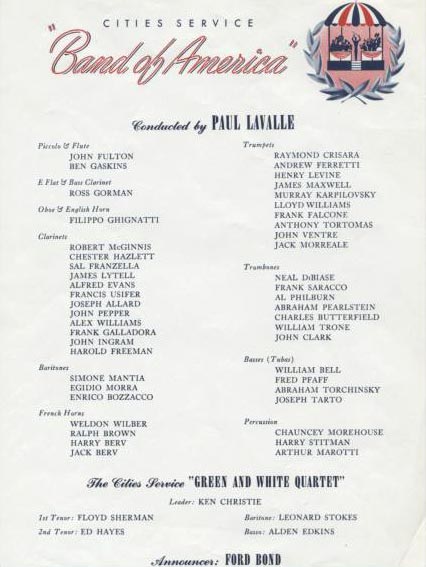 For those that can't make it out, it says that the tuba section is William Bell, Fred Pfaff, Abraham Torchinsky and Joseph Tarto. Not a bad bunch of tuba players, eh?