A little about my background as a player. I started playing in 1974 on a big old Conn Recording Bass and have played on Miraphones, Meinl Westons, Kings, Olds & Sons, Reynolds and Yamahas in both BBb and CC through college and also as a military musician. I am now playing as part of a local community band and practice and perform at altitudes from 6,800' to 8,400' with an occasional brass choir gig over 10,100'.
I purchased this horn new from Jim Laab's Music. It arrived via truck with no damage in about 7 days. I purchased this model as I was seeking a horn in the large 4 quarter to small 5 quarter range that would have a good solid dark quality to create the foundation under a wind symphony without sucking the life out of me at 8,400 feet.
My first impression when I pulled the horn from its case, was that it is very heavy, feeling much like the Olds & Sons horns and Reynolds from the 1950's and 60's.The horn weighs in around 24 pounds. Most of this weight is centered in the bottom of the horn making it comfortable and easy to balance in your lap.
The horn looks to be a copy of the Hirsbrunner 192.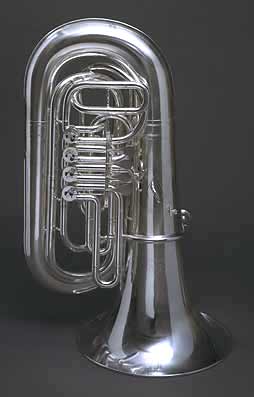 But is actually a JinBao JBBB-210 stencil.
I purchased the nickle version. The lead pipe is mounted up away from the bell allowing it to vibrate more freely. The rotary valves are equipped with double ball linkages that are easy to lubricate and move smoothly and quietly.
The slides are nickel on both the interior and exterior of the tubes with the bends made of brass. On every other tuba I have played only one side was nickel or both were brass. All three valve tuning slides can be reached easily through the horn with the first valve slide closest to the front of the horn. The third valve slide located in the middle and the forth in the rear behind the upper large bend. The slides operated smoothly and easily right out of the box.
The wrap of the third and fourth tubes limited the flow of spit to the one water key located below the bottom of the valve block. No more spit spins in the middle of a performance

I've measured the bore of the second valve slide at about .690" with a manual micrometer but it plays more open than a Yamaha 321 with a bore of .731" . The stats say it is a 19.5 MM or .767" bore.
When I first starting playing this instrument, I used the large mouthpiece that came with the horn. I found it to be hard to tune or control playing extremely flat. I then switched to a Yamaha Roger Bobo symphonic replica and pitch improved. Once I switched to my Marcinkiewicz 3W the horn started playing very well.
(An update as of 3/2012... I've had the horn for 14 months now and have switched to a stainless steel Sellsmenberger Symphony mouthpiece with the Fair Dinkum #2 medium round rim and delrin cup extender.)
In rehearsal playing in a 67 to 69 degree rehearsal hall at 8,400' with the Marcinkiewicz 3W and verified by a tuner, I was able to tune with the slides pulled as follows;
Open -Tuning Bb – Tuning Slide pulled 1/2".
Second valve – A – slide pulled 1/8".
First Valve – Ab - slide pulled 3/4"
Third Valve – Low D – slide pulled 1 1/2"
Fourth Valve – Low C – slide pulled 2".
Tone quality is is darker and richer than the Yamaha 321, and King CC that I once played,
I've read some reports that this horn has had a problem with the main tuning slide being too short. This may be from large horn players using the mouthpieces that work well with their five quarter or six quarter horns and using a larger horn air volume when they have played this tuba. I believe this tuba being more of a four quarter size is being blown flat by the larger horn players approach to this horn.
(Update as of 4/2012- As I have searched to find a really good match to this I horn, I found that when I used mouthpieces with a rim size larger than about 33mm the horn would play flat.)
Playing tonight in rehearsal I found the horn easily slid down into the E natural, E Flat and D petal tones, I also noticed I didn't need to do the extra air push to get the notes to speak when transitioning from open position into notes using the third or fourth valves. There was no stuffiness in the lower notes that I experienced even when playing with the smaller mouthpiece. I am able to get the fundamental BBb to speak easily and am able to move down into the AA, the AAb, and the GG if I breath deep enough. Too many of these at 8,400 feet and you discover a new revolving floor.

This horn is shorter than most only 36 inches tall. The position of the 17 3/4 inch bell is directly over the players head. This makes your volume seem louder than what you are used to but gives a better feedback as to your true tone.
I've found it to be far better a horn than I expected and spent under 2K including shipping to get it new.