I've already posted twice in one day and admitted it's a lazy Saturday, and now I feel guilty about not writing this post as well. So I will!
I'm primarily a euphonium player, but recently assumed the 1st baritone seat in a new local brass band. The only real problem is up until now I've had no need to own a baritone, and apparently something is not quite right in the world, because a new professional-grade baritone from one of the big names now costs anywhere between $4000-$9000 dollars. At this point I started asking around about alternatives, and had gotten a few good remarks regarding Wessex. Then bloke wrote a post that included the following (or similar) image: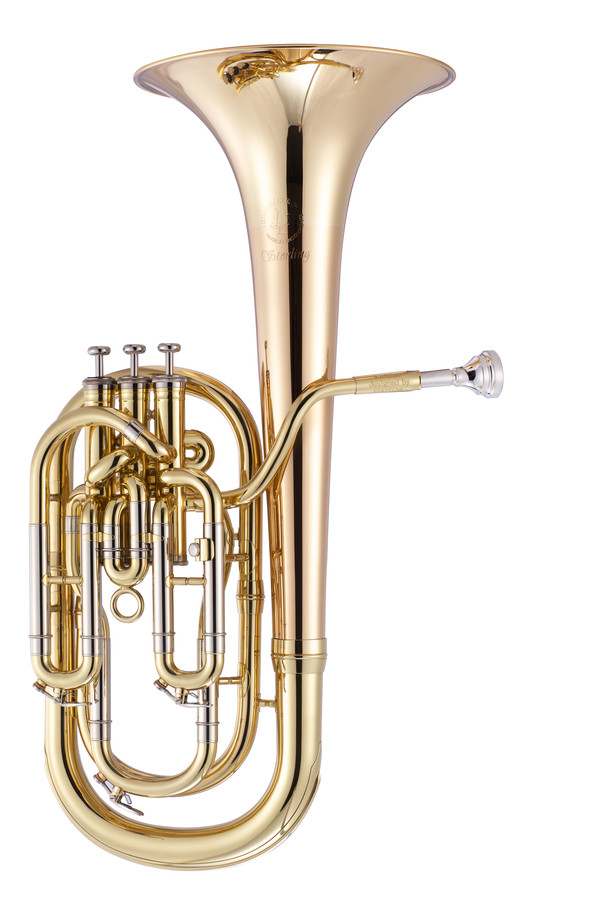 I've purchased a few blokepieces directly in the past, and since he has always been very honest and forthcoming in my experiences with him, I decided it wouldn't hurt anything to ask what he was charging. Obviously I was happy with the number he gave me, but I'll also say that he was
significantly
lower than who I would have ordered from otherwise. He was also extremely accommodating in several other ways and kept me informed and aware of backorder status. At one point the backorder had the potential to be longer than anticipated and he offered to refund some of what I had paid and send a demo model immediately. I declined the offer, but it was exceptional customer service to keep me in the loop and offer an alternative. A few weeks later my brand new JP Sterling baritone arrived at my office.
And now the actual horn impressions. I apologize for the lack of pictures, but I really don't have a great place to take any, I don't want to delay this post any longer, and the available photos online do justice to the instrument.
I really like this horn. When I first picked it up and started playing it, I wasn't sure about the sound. I had been borrowing a Besson for the first few rehearsals, and Bessons have a fairly mellow, relaxed sound. The JP Sterling sounded too bright after being used to the Besson. After spending some time getting used to it, I strongly disagree with my own first impression. The horn sounds alive and resonant, and it projects beautifully. It is certainly not the Besson house sound, and while Bessons are excellent instruments in their own right, that's not a bad thing. Just different.
With baritone I always questioned exactly what it should sound like; should it sound more like a euphonium or a trombone? How far in either direction is too far? Living in America where the baritone is fairly uncommon is certainly part of that. I'm not ashamed to admit I took some time to listen to a few outstanding soloist recordings on YouTube to try and figure that out. I believe I settled on a good answer that is distinct in its own right, and the Sterling facilitates that sound I want. Every time I have played this horn publicly, someone has gone out of their way to compliment my sound. As someone who typically plays a large bore euphonium with a dark, mellow sound, this thing is really fun for a change of pace!
In addition, as bloke has stated previously, the intonation is excellent. In fact, I think he likely understates how easy it is to play this horn in tune. 2+3 is a little weird but not nearly as bad as you might expect from this layout. Notably better than the vintage Besson (also 3 valve comp) that I was previously borrowing. I also have no complaints about the 3 valve compensating system. Most baritone parts will never hit the range that a 4th valve becomes necessary, and not once have I ever felt as if I needed it for intonation purposes.
In terms of the sound I get out of this little horn, I have absolutely no complaints. It's been great across the board.
Fit and finish have been mostly good as well. I opted for the lacquer because the image above shows that beautiful red tint in the bell material. This is significantly more subtle in person, but still present, and I don't really regret my decision. Aesthetically the horn is beautiful, and there are many small touches in the construction that you notice over time. There is a small horizontal seam in the bell, but it does not seem to affect playability and is virtually unnoticeable to anyone not sitting directly next to you. It's a weird thing to mention, but the spit valves are positioned a little strangely in that you need to hold the horn almost horizontally when emptying it. Not a major thing as the instrument is as light and easy to handle as you might expect. Coming from tuba or euphonium, you will be surprised how often you have to empty a horn this size.
The valves are VERY tight... In fact, this has been one of my few complaints. First valve likes to stick at inopportune times, and third valve even more so as it will usually stick on the way up after you've been holding it for a long note. I used Warburton Clean-Stroke valve wash and it did reveal a good deal of residue on the valves, more than I would expect for a brand new horn. I imagine these issues will get better with some break-in. I recently began using the F1 valve oil from Resilience Oils, and while action is a little slower overall, the sticking has almost entirely ceased. If you've been following that thread, you'll know I'm waiting to receive their lighter formula to see if that does the trick.
The mouthpiece that came with the horn is only "okay." It's an obvious copy of the Denis Wick 6BS (which is a great mouthpiece to copy), but workmanship seems a little lower quality than the horn itself. On a whim I went over to my local Sam Ash and picked up a Faxx 6.5 AL; it ended up being a perfect match. I might try out a couple other pieces in the future, but I already know in terms of pure value I'm not going to find anything better.
The horn comes with a very nice fabric shell case that has a generous music pouch on one side and loops to attach an included strap on the other. It looks like this case may not be made for this specific model, because on the inside it includes multiple foam pads attached by velcro that can be repositioned wherever necessary to cradle the horn. It also came with a number of other accessories, such as polishing cloth, a double mouthpiece case, valve oil, aforementioned strap, etc. I feel the overall package is a great value and receiving it definitely checks off some of those feel-good "retail therapy" boxes.
I really don't have much else to say. I'm known to be a bit of a perfectionist with my equipment. But I'll be honest here, unless I feel like wasting money in the future, I don't anticipate ever wanting to buy a "better" name brand baritone. The quality and value on the JP Sterling is outstanding, and for anyone wanting to see what the baritone is all about it may be both your entry point and your end goal. I would also highly recommend going through bloke (Joe at Mid-South Music to those of you who aren't regulars here) as he's an upstanding guy and in my experience always treats his customers right.
That's all he wrote! If anyone has any questions, I'll be happy to answer them. Thanks for reading!