OK, I had a whole "unboxing" video planned where I was going to video me playing the tuba fresh out of the box, but the tuba arrived a whole day early and my tripod was in my wife's car, so I said "screw it, I'm playing this thing"
First of all, shipping was expensive, but amazing (I got a demo model so Jonathan had to ship it from Great Britain). It got here in less than 48 hours after he gave it to FedEx. incredible. It was packed and protected great, arrived without incident. The airplane must have been traveling at ludicrous speed.
Now to the tuba. This horn is a copy of the Cerveny Arion, which is a squat body version of the cerveny 68x (I'm assuming since it's a copy of a Czech horn, that's where the name Prague comes from) For those of you that don't know, the reason the valve cluster looks like a miraphone 186, is because the miraphone is also a cerveny clone, so this is a very tried and true design.
Don't do this horn an injustice by calling it a 3/4. It may be small in size, but it packs a PUNCH. I can't believe the massive "big boy" sound it has. It reminds me SO MUCH of my piggy I had for 20 years, but because it's a BBb, even has a deeper tone. Incredible tone for only a 15 inch bell. the tone is great for a tuba of any size or key, but especially remarkable for such a tiny horn. Mighty Midget indeed.
Tuning is spot on, the only note that I found that is eve a concern is low BBb, which centered about 20 cents low, but that may be partly due to the fact that I haven't played a BBb tuba for more than a few seconds at a time for more than 25 years. It's possible it could center on its own with more playing. I'm VERY impressed at the intonation of the rest of the horn, even usually problematic notes like the C in the staff that can be flat on many tubas is perfect. D in staff is nearly spot on, wouldn't even think about using an alternate fingering. Eb below the 4th ledger line is a little flat, as it usually is on almost every instrument, but it lips fine
here is is between my 601 and my Eb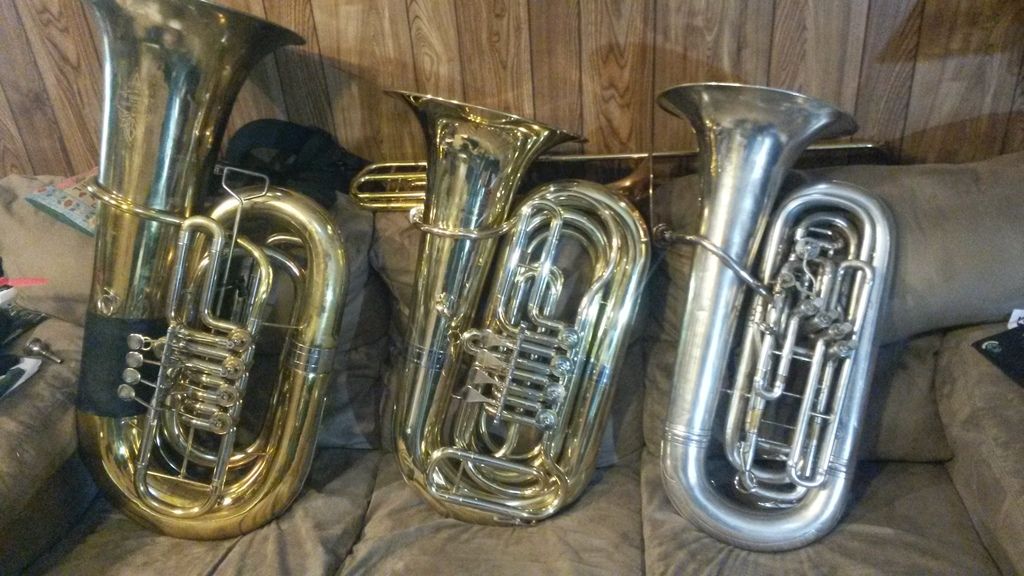 Size comparison with a miraphone 186
One odd thing... The valve linkage is at an odd angle. Never seen this before, I can only assume it's on purpose. It's not bad, just different and takes some getting used to. It requires me to use a curved finger hand position, where I've always played flat fingered. Maybe that's a good thing, but it is different.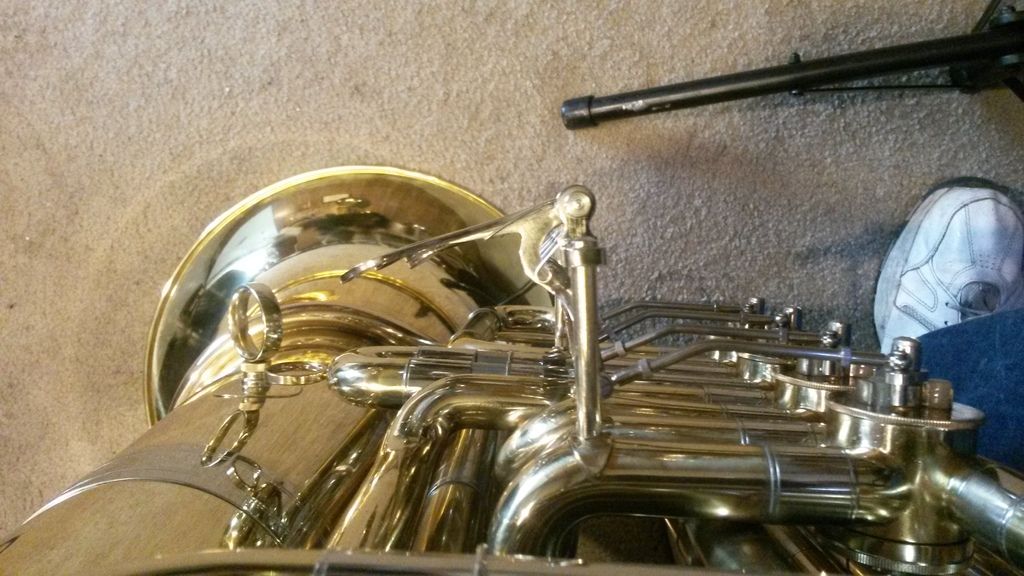 here's me playing the first "BBb" things that popped into my head, LOL
https://youtu.be/_alzBdhJl9w
" target="_blank