I wonder if one of these tiny little 12" bell Edgware Street Eb tubas' frames could be made into a compensating F tuba that plays usably well in tune?
https://www.ebay.com/itm/Besson-2-20-Eb-Tuba/222851811828
Is anyone familiar with how well these little cuties play in tune as Eb instruments?
...so it would cost Jonathan $250 plus shipping from Louisville to pick it up, toss the valveset, and play with it as a prototype.
Some of the 1950's/1960's funny little compensating F tubas weren't so bad...
They weren't configured just like this 2-20 student model Eb, but weren't that much different.
...so this is actually what the old (not "Barlow", but 1950's - 1960's compensating) Edgware Street F tubas looked like...Actually, this one dates back to the 1920's, but those from a half century ago were very similar: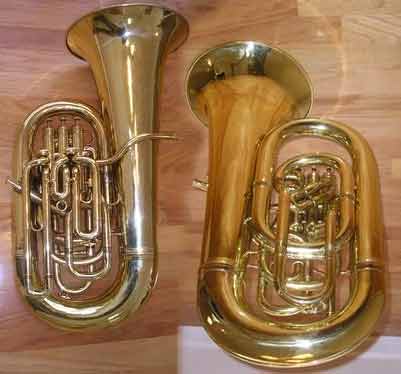 I'm actually wondering if the smaller bell (on the 2-20 student model Eb) might help the 8th partial pitch be not-so-saggy...(??)